Doing It All: Meet Adeline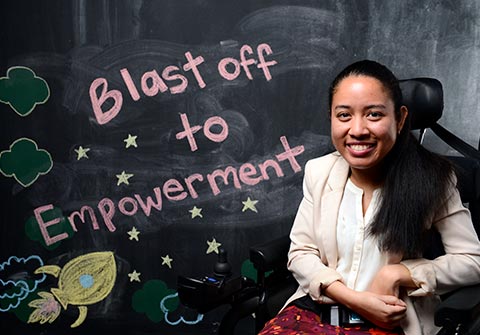 Doing It All: Meet Adeline
By the CDE Team
The Girl Scouts' slogan is "do a good turn daily," reminding scouts of the many ways they can contribute positively to the lives of others. Adeline, the subject of this CDE spotlight, has done her fair share of good turns in her life. She joined the Girl Scouts as a cadet in middle school, then started a troop in her high school and remained a member through her senior year. Adeline attributes the experience to much of her personal growth. Through the Girl Scouts she learned leadership, empowerment and confidence.
Those basics provided a solid foundation for Adeline today. She has cerebral palsy and uses a motorized wheelchair to get around. Her personal experience informed her final Girl Scout project as a senior in high school. Looking ahead to her upcoming departure for college, Adeline wanted ways to stay healthy and include exercise in her life, so she worked with an occupational therapist to create exercise programs that she and her peers with disabilities could do independently. She won the Girl Scout Gold Award for her efforts.
A Brooklyn native, Adeline left New York City for Washington, D.C., to attend Georgetown University's Edmund A. Walsh School of Foreign Service where she received her degree in International Affairs. In college she was heavily interested in women's and gender studies, as well as marginalized populations. Her first internship, through the Workforce Recruitment Program, found her at the U.S. Securities and Exchange Commission's Disability Program Officer where she helped to vet job applicants with disabilities for possible employment. She is currently in her third year as a government information analyst, where she processes information from the U.S. Department of State under the Freedom of Information Act. This is the first step in a long career Adeline has planned—she has a real passion for human rights policy and eventually she wants to promote U.S. policy on international human and disability rights.
Through activities in the workplace, particularly the in-house mentoring program at the Department of State, she has many opportunities to expand her network. She is a recent member of the Disability Action Group's communications committee and attends affinity group sessions with others at the Department with similar interests. She is also on the board of the Department's Council for Career Entry Professionals.
Adeline's robust life outside of work takes her around the city; she explores D.C. and participates in "touristy" activities. A visit to the iconic Ben's Chili Bowl is on her to-do list. Recently, she joined a book club and started an additional one at the Department of State. And she also took up coding and meets with the Women Who Code group. She believes this is a necessary pursuit for her generation in this technology-driven age and hopes it will open doors to new opportunities in the future.
As though her plate wasn't full enough, Adeline volunteers on the communications committee for Stop Modern Slavery, which informs people about human trafficking in the U.S. She uses social media platforms like Facebook and Twitter to promote the organization and its awareness campaigns. For example, Stop Modern Slavery hosts a "WalkFest" where area colleges and related organizations sponsor groups to walk around the Mall. The proceeds go to groups who help victims of human trafficking.
When Adeline was growing up, she didn't know many people interested in the affairs of people with disabilities. So she decided to share her story in efforts to be a role model for people who have similar interests. Acknowledging the many ways that having a disability has affected her life, she says she had to learn to be her own advocate and get her needs across. This experience helped her realize her personal strengths and limits and learn to be unafraid to ask for help if needed. Adeline encourages her peers with disabilities to not "be discouraged; do some research. Lots of opportunities aren't advertised well. Look up things that you're interested in."
At work, it's what people CAN do that matters
Subscribe to our updates, follow us on social media and learn how to spread the word.
Subscribe to the CDE's News & Alerts