Meet the Cast of the
"Because" PSA
The "Because" PSA features seven real people with disabilities— not actors—who are pursuing and realizing their goals and passions as a result of the support and encouragement they received from everyday people in their lives. Meet the cast of the "Because" PSA.
N'Dea Banks-Mackey
Because my parents taught me to be responsible …
N'Dea Banks-Mackey, 6, is very outgoing and loves to play with her three older siblings. She also likes to help around the house as her parents expect that contribution begins at home. N'Dea is visually impaired as a result of retinoblastoma, cancer of the eye, that was diagnosed at age one. She has undergone six surgeries and has one prosthetic eye. N'Dea's mom, Portia Banks, is very involved in her community and actively seeks to cultivate a similar expectation for her children.
Kayla Woolridge
Because Coach Rocco helped me practice a little harder …
Kayla Woolridge, 14, is a freshman who recently was selected for her high school swim team. Her first swim coach, Rocco Aiello, is an adaptive physical education teacher and was instrumental in encouraging Kayla to take her swimming to the next level. Kayla, who now swims competitively and inclusively, has spina bifida and uses a wheelchair.
Frank Stephens
Because my boss depends on me to do my job well …
Frank Stephens is a middle-aged man who works at Wildflour Caterers and Café in Chantilly, Virginia. Frank, who has Down syndrome, takes great pride in his work and articulates very well the value of meaningful employment.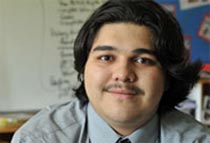 Jonathan Miranda
Because my teacher helped me discover that I have a talent …
Jonathan Miranda, 16, is a talented artist. He also has Asperger's.
Ford Martin
Because my lacrosse coach taught me the meaning of teamwork and good sportsmanship …
Ford Martin is an alumnus of Georgetown Preparatory School where he was an accomplished goalie on the nationally ranked Little Hoyas lacrosse team. Ford has a congenital condition that affects his legs.
John Kemp
Because I believe in supporting the progress of people with disabilities and their families …
John Kemp is the head of The Viscardi Center (formerly Abilities!), one of the world's leading organizations dedicated to fully integrating people with disabilities into society. He is also the former executive director of the U.S. Business Leadership Network. John, who uses prosthetic arms and legs, is also a longstanding disability advocate and attorney, previously of Powers Pyles Sutter & Verville PC (PPSV).
Juliette Rizzo
Because having a disability does not mean that I lack the ability to achieve …
Juliette Rizzo is an event planner for the Secretary of Education as well as the department's director of outreach. Juliette, who has rheumatoid arthritis, scleroderma and fibromyalgia, uses a wheelchair. She is also very active in disability advocacy.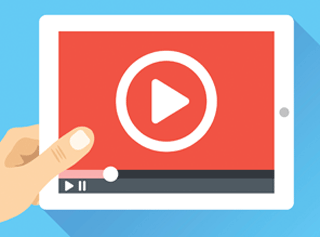 PSA Download Center
Find links to all available versions of our videos, including captioned and audio-accessible options, Spanish language versions, as well as various run times.